Closer Look at AF4Q – South Central PA's Leaders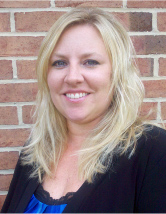 "In my opinion, finding balance between high quality care and low cost care is probably one of the biggest health care challenges," stated Kristin Thomas, Director of Clinical Quality Care and Epidemiology for WellSpan Health. This challenge is one of the reasons Kristin is so passionate about her work, and her involvement with AF4Q – South Central PA.
According to Kristin, the approaches AF4Q – South Central PA is taking are helping find the answers to the famous question, "How can we get the biggest bang for our buck?"
Kristin's background consists of studying disease patterns, risk factors and why people get chronic diseases. Because of her strong knowledge of quality data, she's working closely with AF4Q to help form ideas on how to collect data and use it to better address the issues at hand. With Kristin's assistance, AF4Q is beginning to collect data relating to readmissions and number of patients coming in and out of the emergency room.
"We can learn a lot by looking at populations of people – rather than just individuals. With AF4Q we also have the opportunity to reach populations who are disadvantaged and may not receive the same access as others. By collecting and analyzing data, stories can be told about these patterns and ultimately help others better handle their health," Kristin added.
"This organization helps the team look at people's clinical, social and behavioral characteristics when it comes to health care. Through analysis and reporting, we can determine what is standing in the way of John Smith getting better care. Is it the lack of transportation, or does he not understand his medication. What are the risk factors involved?" she explained.
Through the conversation, I learned Kristin loves her job, but she absolutely adores her other role - being a mom. When asked, "If you didn't do what you do now, what would you do?" she responded, "I would love to be a stay-at-home mom." She said that she enjoys traveling too, so a travel agent wouldn't be such a bad job either.
Needless to say, when Kristin isn't working, she is spending her time with her husband and three-year old son, Dane. But there are a few others she's taking care of too, including the newest members of the family…. chickens, and an older member of the family, Jake, the basset hound.